As a small token of appreciation for the fantastic work that our country's NHS staff do, Exclusive Mirrors are proud to be supporting NHSDEALS. This is a website that gives a little something back to NHS staff. We often take our NHS for granted and the great people that dedicate their lives and work within it. If you know anyone that works for the NHS then please make sure that they are aware of this website as they could save on their daily purchases.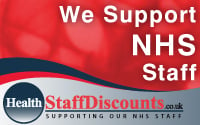 Check out the webiste:
http://www.healthstaffdiscounts.co.uk/
.